How long does it take you to feel normal again after a vacation? Generally it takes me only a day or two, but things seem to be lingering this time around. Even with trying to have some semblance of balanced vacation eating, I still indulged a lot more than normal….and am feeling the after effects. Its certainly shown up in my food cravings this week – I only want light and veggie filled it seems!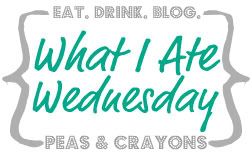 Here's some post-vacation What I Ate Wednesday action to get your day started. Share in the fun over at Jenn's site with her What I Ate Wednesday weekly round-up…all in the name of sharing foodie ideas.
First up, breakfast. And would you believe it I had ZERO desire for oatmeal? After eating either oatmeal or muesli most mornings on the ship, I found myself wanting something different first thing in the morning this week. Namely another morning favorite – the green smoothie.
I blended up a cup of unsweetened vanilla almond milk (plus 4 frozen cubes), a frozen banana, a few large handfuls of spinach, and a scoop of Vega chocolate protein powder. Very basic, yet very delicious. It holds me over pretty well too.
In fact, it has kept my hunger at bay so well that I found myself not even hungry again until lunch time. Very out of the ordinary with me, but I'll roll with it. Eat only when hungry, right?
For lunch, I had some leftovers straight from the tupperware container alongside a salad.
The leftovers come from one of my favorite crockpot recipes (Sweet Potato Black Bean Chili) full of fiber and flavor! For my salad I mixed some spring greens with tomato, cucumber, carrots, then topped it with a heaping scoop of Trader Joe's cilantro jalapeno hummus and balsamic vinegar. Mmmmm….
My  lunch kept the belly full and satisfied for a good length of time, but the tummy started grumbling around 4 pm. We would have dinner just a couple hours from then but I knew I needed something to hold me over. I went with a plain Greek yogurt with a few drops of vanilla NuNaturals added and then an orange.
I ended up dunking the orange slices in the yogurt for a creamsicle type flavor that was so refreshing. Give it a try! I bet you like it.
Finally came dinner time. We didn't have anything special planned because I had to head out for Bible study. Generally we go with taco night on my Bible study nights and this was no different. I piled up a bowl with some lettuce and then topped it off with a bit of taco meat, a few heaping scoops of black beans and corn, a sprinkle of cheese, and a hearty dollop each of plain Greek yogurt, salsa, and guacamole.
I believe I could eat that every single day and not grow sick of it.
Quite the satisfying day. Now excuse me while I likely do a repeat again today. Happy What I Ate Wednesday!
What types of things do you crave after a vacation? Do you have a staple quick and easy dinner you can never grow sick of eating?