Hey, friends! As you know, I'm a big lover of fitness…and all things fitness. I always like to share with you all when I find some good stuff. I've done a few posts like this before and figured it was good time for another one. I would love to hear some of your favorite recent fitness finds in the comments as well! A bit of disclosure: I did receive a couple of the below products free for review (which I will note), but only share them because they have honestly become something I use all the time and love.
I've been a lover of Aurorae yoga mats since starting up yoga four years ago. However, when deciding to commit more seriously to yoga, I decided to get a heavier duty mat. The Manduka Pro mat is certainly that. It's kind of a behemoth mat, but it is super sturdy, thick, and even has a lifetime warranty. I also appreciate the fact that it is incredibly non-slip when paired with the Manduka eQua towel. That is a serious need for this super sweaty chick doing hot power yoga classes. I ordered mine on Cyber Monday to get a better deal, but I have also seen Manduka come across as a gear deal on things like Active.com's daily deals or Groupon Goods deals before. So keep an eye out if the mat interests you!
source
After signing up for yoga teacher training, I knew I needed to get a bag to carry me through the long days and the many things I had to bring. Funnily enough, right at that time, I received an email about trying out -the Apera Yoga Tote. I graciously accepted the offer and am very glad I did. This bag has SO MUCH SPACE. I can easily fit 3 large towels (mat towels and a shower towel), 2 changes of clothes, a pair of shoes, shower/make-up/hair products, a water bottle, and my wallet/keys/phone into the bag. The bag is also designed with space underneath the shoulder straps for a yoga mat to slide through and stay secure.
The only negative I had for the bag was the fact that my main mat – the much thicker Manduka mat described above – didn't fit easily into the space to carry your yoga mat. That being said, the bag DID easily fit the standard mats I have (as pictured). Overall, this bag has been great to me and the ample storage space plus ventilated sides/top to let all my sweaty yoga gear breathe makes it even better than expected. The bags are pricey, but if you need a high quality bag that you will use a lot and want to last, then I do recommend Apera.
Bodyweight Exercises
Lately I have little motivation to go to an actual gym. When doing any sort of strength workouts, I have done almost all my training at home for the past two to three months. I fortunately have a decent amount of equipment at home, but don't feel the need to use it as all the time since I know you can get SUCH a good workout with just your body weight. In fact, I would say some of the body weight workouts I have done recently have challenged me more than my strength workouts with weights.
Sliding Discs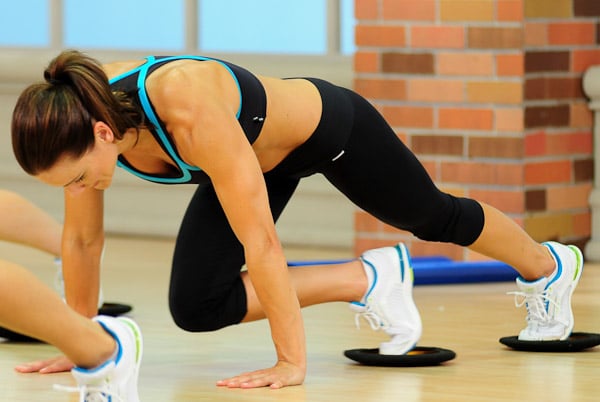 source
If you have read this blog for awhile then you likely know I love, love Cathe workout DVDs. Many of her recent ones use sliding discs for low impact exercises. I have to tell you that these are fun! Just think…sliding burpees! And really amp up the core work and necessity to really control your muscle recruitment and movement.
I had seen these cute hair bands for awhile in other people's hair, but wasn't really sure what the hype was and if they really made any difference. I received an offer to review these and agreed to try them out. I tend to get a lot of review proposals and turn down like 90% of them. I almost turned these down, but was unsure how they would work in my super fine hair. Turns out they are perfect for my super fine hair. Normally I have to pull hair ties super tight or they will fall right out. I could wear these comfortably loose but they would stay in just fine. And, I love all the different colors they have. Super cute!
Coconut Water
I have found coconut water to be one of the best (and most delicious!) ways to get in electrolytes with hot yoga. I tend to drink one on the way to yoga and can tell a difference in how I feel and in my practice during class on the days I have just plain water instead. It tastes incredibly refreshing following a class, too. The main brand I have tried is Zico and I prefer the chocolate version. I'm open to suggestions of other good brands to try, too!
Red Hot Yoga Studios in Atlanta
A life changing studio for me. Even though I know the majority of you don't live in the Atlanta area, I couldn't leave them off the list. If you do live in the area, or ever make a visit here, then I highly suggest checking them out. They have an energy and expertise like none other I have tried.
Online Yoga
And since I can't leave all my non-Atlanta friends hanging, I can suggest some online yoga sites to you. I've tried a few and would have to say that YogaGlo (although not too fond of their patent decision), YogaVibes, and Reflexion Yoga were my favorites. There are also free options like Do Yoga With Me.
Positive Motivation
Like many of you, I am SO over the "fitspo" images and the pressures of looking a certain way. I have noticed an upward trend in positive inspirations of appreciating your body and showing love to yourself, though. Which I'm a big fan of right now. And always.
Instagram Challenges
I had never done an Instagram challenge until hopping on board the 30 Day Yoga Challenge just recently. It is so much fun! Even if I have a hard time staying up to date. Plus, always inspiring to check out the challenge hashtag and see so many people getting their healthy on.
Sports Chiropractors
Even though I haven't dealt with injury, I still like to visit my favorite sports chiropractor from time to time when I notice any particular area getting super tight. I'm all about avoiding injury these days and haven't found anything else that really targets issues like a sports chiropractor does. I guess it's kind of like getting a very specific massage? I have an appointment tomorrow, in fact, to loosen up some shoulder tension and decreased range of motion.
That's all I got for today. Now I would love to hear some of your recent fitness favorites! Products, websites, inspirations, types of workouts, whatever!